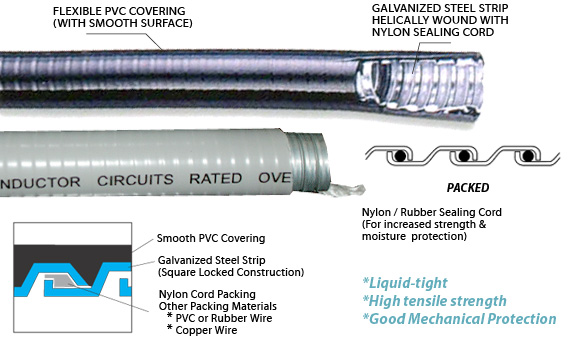 MADE FROM YF-708 FLEXIBLE METALLIC CONDUIT WITH HEAVY DUTY SMOOTH PVC COVERING:
*Durable and long life.
*High tensile strength.
*Inner core made from a spiral wound strip of corrosion resistant galvanized steel.
*Square locked construction with packing for more strength and smooth wipe clean PVC covering surface.
*Liquid tight. Complete protection against most liquids and moisture vapor. Resists sunlight (UV Resistant), heat, oil and chemical degradation.



Liquidtight flexible metal conduit is manufactured from an electro-galvanised steel flexible inner core which is pressure coated with an oil resistant, high temperature grade of plasticised PVC. The PVC is keyed into the corrugations of the inner steel flexible core, preventing the PVC from wrinkling when the conduit is bent to its minimum bend radius.



Applications:
Liquidtight flexible metallic conduit provides protection for wiring circuits located in extremely wet or damp areas. It is also suitable for machines, tools and equipments where ruggedness is required.


Delikon Liquid Tight Conduits now in extensive use on presses, welders, pumps, blowers, grinders, conveyors, machines and portable tools, automated lines, and in construction, power plants, industry, commerce and transportation.
Related Products:
>>>Model YF-806


Interlocked liquid tight conduit for more frequent bending and moving applications.
Also for tighter bend area.

Liquid tight flexible metal conduits with metal wire over-braid for more abrasion resistance and EMI screening.
>>> Model YF-705


Wire over-braiding provides more abrasion resistant,
EMI shielding and resistance to hot metal splashes




>>> Model YF-604
(with copper bonding wire)



Braided Flexible Metal Conduit Systems For Industry Wirings




flexible liquidtight conduit flexible conduit flexible liquidtight conduit liquidtigt metal conduit
Liquid tight Flexible Steel Conduit for Oil Refinery Wiring
flexible liquidtight conduit
Heavy duty, non-wrinkling smooth durable PVC jacket for exposed applications.
— Superior performance and appearance, creating a liquidtight conduit resistant to most oils, acids and vapors present in industrial environments.




— Suitable for use in a variety of environments and applications from general purpose wiring in wet or damp locations, to direct burial and in concrete embedment, to raised computer room floors and site lighting jobs. It offers good mechanical and moisture protection to enclosed electrical conductors.